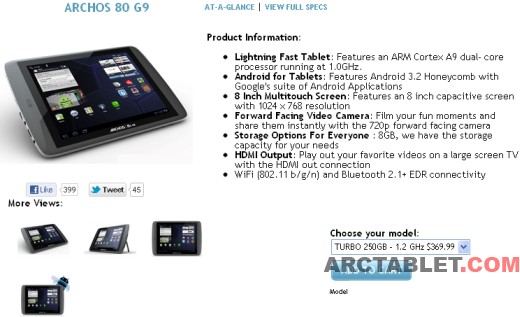 The Archos 80 G9 Turbo device offering 250 GB of storage is now available at Archos US store.
This tablet is the latest Archos Gen9 device, using an TI OMAP 4630 CPU running at 1.2 GHz, 512 MB of RAM and running Android 3.2 Honeycomb. The large storage capacity is provided by a Seagate Momentus Thin(first 7mm standard hard drive) that equips the tablet.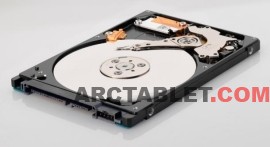 First users feedback mention a Screen defect issue like on other Archos 80 G9 models, see theElemDragon Youtube user video comments:
Also happens on the Archos 80 G9 Turbo 250GB tablet I just got.
[…] Even on my 250GB hard drive model, which is a bit thicker than the 8/16GB flash models, it doesn't take much at all to have that screen defect appear. Often times it just seems that holding the tablet is enough to make it show up, let alone applying any pressure to the screen or the back. Holding it in my left hand and navigating with my right (not pressing like hell on the screen either) makes it quite visible. heavy pressure isn't exactly required.
Check back soon for a complete device review.
Pictures from Archos, Seagate.